Most modern people have used a PC at least once and know for sure that you can view photographs and images on a computer. If we are talking about the Windows operating system, then we use the standard, pre-installed gallery. This is a fairly simple tool with a limited number of functions, but it can cope with the simple tasks of the average person. However, if you want something a little more sophisticated that works in 3D, you might like the 3D gallery on your desktop. You can download DesktopImages3D from the official website of the developer, but we will talk about this below.
Image viewers on PC
The Windows system image viewing application, known as Windows Gallery or Picture and Fax Viewer, is a fairly simple and convenient way to browse, edit, organize, and arrange images on your computer. This is a standard application that comes pre-installed in most versions of the Windows operating system. In addition to it, there may be any third-party software that can perform the function of viewing photos (XnView MP ) or pictures, for example, Irfanview .
Windows Gallery
Windows operating system, which is used by millions of users around the world, has its own image viewing tool known as Windows Gallery. It allows you to organize, edit and view your photos and images. Windows Gallery provides a convenient way to explore your image collection, create albums, edit photos, and even create slideshows.
However, if you are looking for a more original and modern way to view photos, then Windows Gallery may not fully meet your needs.
3D gallery on desktop
Desktop 3D Gallery is software that adds an element of interactivity and visual appeal to your image viewing experience. It allows you to view your photos and images in 3D, creating impressive visuals and depth that you don't get with regular image galleries.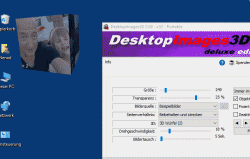 DesktopImages3D is one such program that makes the viewing process images on your PC are quite original and in some cases even unique. Here are some instructions for using this program:
Download and install DesktopImages3D:
First, you need to download the DesktopImages3D program from the official website of the developer. You will find links below. Make sure you download a version of the program that is compatible with your operating system.
Run the program:
After installation, launch DesktopImages3D. Initially, you will see a simple and intuitive interface of the program.
Add images:
Click on the "Add images" button and select photos you want to add to the gallery. DesktopImages3D supports various image formats, making it convenient to use.
Switch to 3D mode:
Now select the 3D mode in the program. DesktopImages3D provides several different options for 3D effects such as carousel, cube gallery and others.
Watch and enjoy 3D viewing of photos and images:
Now that you have chosen your 3D effect, you can view your photos and pictures in a more vibrant way of viewing, namely in 3D format. Use your mouse or keyboard keys to navigate your gallery.
Additional features:
DesktopImages3D also provides the ability to add music to your slideshows, adjust rotation speed, and more.
Download DesktopImages3D
DesktopImages3D is amazing software for anyone who wants to turn their image collection into an immersive 3D experience. You can download DesktopImages3D from the developer's official website or find it in popular online app stores. Make sure you download the latest version of the program to get access to all its features and functionality.
Desktop 3D gallery like DesktopImages3D provides a unique and interactive way to enjoy your photos and images. It adds depth and visual interest to your photos, making viewing more fun. Moreover, all this can be done on the Windows desktop. This is good and high-quality software for your PC. Use DesktopImages3D right now!
Screenshots
Tags
Download
You may also like: