Modern computers have become an integral part of our daily lives, and at the same time, new ways of organizing the workspace have appeared. One such innovative way is using tabs on the Windows desktop with the help of the TidyTabs application. Here we'll take a look at how this tool can improve the efficiency and usability of application windows, as well as how to download and configure it. With it, you can create and edit tabs on the Windows desktop. You can download TidyTabs from the official page of the developer's site, but you will read about it below.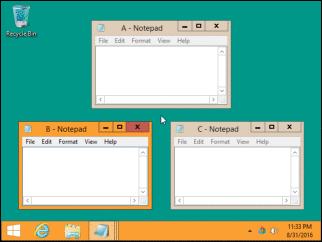 Windows Desktop Tabs: Benefits
Since the advent of multitasking on computers, users have faced the challenge of needing to have multiple open windows. Opening multiple windows for the same application can be confusing and difficult to navigate. That's where desktop tabs come in.
Organize windows: TidyTabs allows you to group windows of the same application into convenient tabs. Instead of having multiple text editor, browser, and file manager windows open at the same time, you can combine them into a single tabbed window, making it much easier to organize your workspace.
Space Saver: With desktop tabs, you can save valuable space on the taskbar. Instead of displaying multiple application icons, you'll only see one representing a group of your windows.
Quick access: Switching between windows of the same application becomes easy and intuitive. You can switch between tabs using the mouse or keyboard shortcuts, which greatly reduces navigation time.
Installing and configuring TidyTabs
Download and installation: To get started, you will need to download and install TidyTabs from the official website. You can find the links below in the downloads area. The installation process is standard and should not cause difficulties. The application is free for individual use, but, for a fee, you can expand the list of options and use the program with all the built-in features with the widest possible range of tools.
Appearance customization: Once installed, you can customize the appearance of the tabs, including colors and fonts. This will allow you to personalize your tabs according to your preferences.
Grouping options: TidyTabs provides various window grouping options. You can choose automatic grouping or set up grouping rules manually. This gives you full control over how windows are tabbed.
Manage exceptions: If there are applications or windows that you don't want to group, you can set up exceptions. This is useful, for example, if you want to keep chats or music players in separate windows.

Windows desktop tabs: usage
It only takes a few simple steps to start using TidyTabs. After installing the application from the official site, you can immediately evaluate its benefits. How TidyTabs works is extremely intuitive: to group windows into tabs, just drag one window onto another. Users can create groups of tabs for different applications, such as combining browser, text editor and file manager windows into one window with their respective tabs. This reduces the chaos on the desktop and focus on tasks, not on finding the right window.
TidyTabs also provides flexible settings for managing tab groups. You can customize the appearance of tabs, customize how they are grouped, and even specify exceptions for certain windows. This gives you complete control over how you want to organize your workflow. As a result, the use of TidyTabs not only improves efficiency, but also helps to create a neater and more organized workspace, which is important for maintaining concentration and creativity in today's hustle and bustle.
Workspace organization with TidyTabs: Conclusion
Tabbing your desktop with TidyTabs is a smart way to organize your workspace on the Windows operating system. This tool makes it easier to navigate between windows, saves space on the taskbar, and improves overall work efficiency. Installing and configuring TidyTabs is simple, making it accessible even for inexperienced users. Try it today and streamline your workflow with the convenience of desktop tabs.
See also: